JUNE MEETING
June 15, 2013

"Confederate Prisoners of War"




Presented by:
Ken Minton, US Army CWO, Ret.,
Historian, Gen. Jubal A. Early Camp #556, SCV

11 a.m.
Beef O' Brady's
311 N. 56th Street—Temple Terrace
(Private Room Order Lunch from menu)
---

Visit Our On-line Photo Gallery (click button menu bar)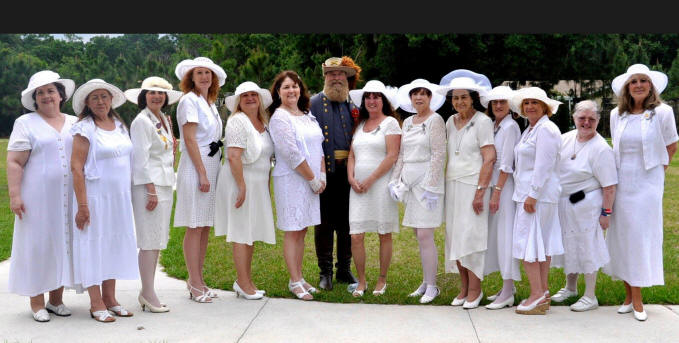 CONFEDERATE MEMORIAL DAY 2013
Chapter Members and Keynote Speaker Wayne Jones (Gen. JEB Stuart)
At Groundbreaking of new Hillsborough County WBTS Monument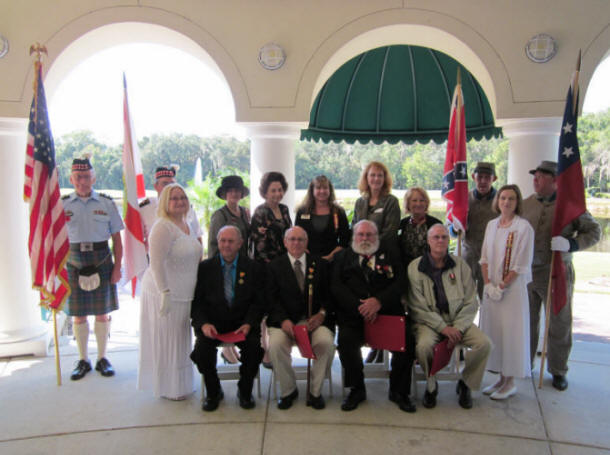 HONORING VETERANS!
CONGRATULATIONS TO OUR 2012 RECIPIENTS
Recipients L to R (front row): Mark Stemple, Leon Duke, Wess Frank, Carlton J. May
November 3, 2012 Veterans Day Ceremony
Tampa Palms Golf & Country Club
With Scottish American Military Society Color Guard and Augusta Jane Evans Wilson UDC Color Guard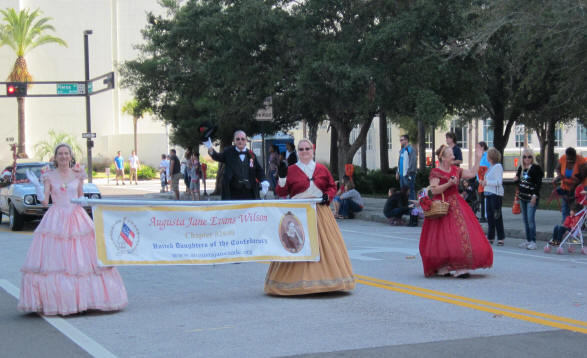 DOWNTOWN CITY OF TAMPA "SANTA FEST" PARADE - 2012
(note Memoria in Aeterna in barely visible in the background)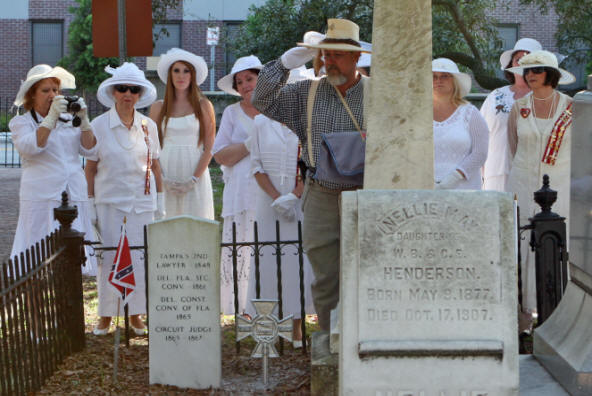 DEDICATION OF SOUTHERN "CROSS" ON GRAVE OF CAPT. JAMES GETTIS
HERO OF THE "BATTLE OF TAMPA" - JUNE 30, 2012 - HISTORIC OAKLAWN CEMETERY
---

---
---

The objectives of the UDC are Historical, Educational, Benevolent, Memorial and Patriotic
Last updated: May 20, 2013


Proudly Celebrating "Old Folks at Home" as our Florida State Song!
---
Visit our Children of the Confederacy Chapter's Website
(click below for link)


---
Disclaimer: The presence of links to outside Web sites does not imply endorsement, approval, or concurrence by the United Daughters of the Confederacy
on any level. "The name 'United Daughters of the Confederacy' is a registered trademark of the General Organization and may not be used outside the
Organization without the express written consent of the United Daughters of the Confederacy. The official UDC insignia is a registered trademark of the
General Organization and may not be used without the express written consent of the President General."
---
<![if pub11]>
---

Visit Our On-line Photo Gallery (click button menu bar)